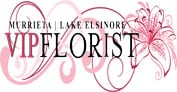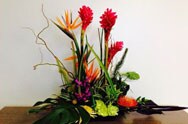 Fall into the Tropics
The hustle and bustle of summer is over and it's time to relax and escape. Join us for a fun night in the tropics as we learn how to construct and work with tropical flowers fresh from Hawaii. This class will educate you on the care and design of these unique blooms and braiding greens. We don't have the sand and the waves, but we definitely have beautiful blooms to transport you to the tropical paradise of your choice. Come out for a night of fun learning to design a tropical paradise. Our classes are fun, and designed for everyone regardless of experience. Must be 16 or older.
When

: Tuesday, September 13, 2016


Where

: Lake Elsinore VIP Florist


Time

: 6:30-8:00


Cost

: $60.00
The cost of this event includes all flowers, container, tolls and any additional materials required for the flower arrangement, plus design instruction by Owner, Annette LaRocque.
Pre-registration is required and seats are limited, so call to reserve your spot! Please remember that courses are extremely popular and will sell out quickly. 951-674-6422.
You may bring wine to enjoy with friends.
Corporate Teambuild
For a company that's looking to inspire their employees, give them a hands-on project with nature and design, or just want to have fun, we have a variety of activities that will make your staff relaxed and happy. Some activities include Wreath-Making, Holiday Flowers, Intro to Floral Design, and Modern Arrangements. This is a unique activity both men and women enjoy. We come to your office and setup the class in any type of space from the conference room to cafeteria. Classes are fit within your schedule and can take place on a lunch break of after work to let loose. We can accommodate 10-30 people and classes can last anywhere between 45 minutes to 2 hours. Contact Us for more information. lakeelsinoreflorist@yahoo.com-951-674-6422.
We'll Bring the Party to You
Lake Elsinore VIP Florist will bring the fun and creative experience of flower arranging to any party or event! Throwing a party in your home, office, or backyard? We'll bring the fun to you. Our pro floral designers will arrive with all the tools and supplies to help you create a dynamic, interactive event your guests will love. Contact Us for more information on our mobile flower bar. lakeelsinoreflorist@yahoo.com-951-674-6422.
Private & Custom Group Lessons
Private lessons or custom classes for small groups are available. Call us to customize your lesson. lakeelsinoreflorist@yahoo.com-951-674-6422.